MPIfG Journal Articles
Articles by MPIfG researchers that have previously been published in peer-reviewed journals are published online in the MPIfG Journal Articles series. The series also includes articles by visiting scholars that originate during their stay at the Institute.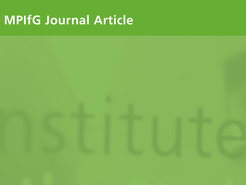 The Max Planck Society promotes open access and seeks to make research results freely available. Thanks to the MPG's growing number of centrally contracted open access agreements and use of the second publication right, the majority of MPIfG Journal Articles are available here as publicly accessible PDF versions. Authors can usually also provide a version of a text on request.