Visiting Researchers Program
International research cooperation enriches the work and life of our Institute. Our Visiting Researchers Program is one of the ways in which we aim to encourage an active exchange between scholars in Germany and abroad. The program is designed for researchers working in the fields of economic sociology or comparative/international political economy, who are invited to spend between two and twelve months at the MPIfG.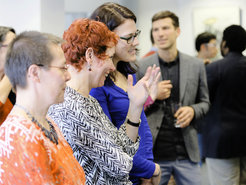 Applications are welcome from professors, postdoctoral researchers, and doctoral students. The intended research project of a potential visiting researcher should relate to the MPIfG's Research Program and ongoing projects at the Institute.
Applicants are asked to provide a funding plan for their stay. If your application is successful, you will receive a letter of invitation that you can use to approach funding institutions. Visiting researchers have office space at the Institute and full access to its service infrastructure.
You will need the following documents to apply:
a letter of no longer than one page explaining what motivates you to apply for our Visiting Researchers Program and giving the researcher at our Institute whose research interests align with your own;
your curriculum vitae including your academic training and professional experience;
a list of your publications;
an outline of your research project (between two and a maximum of three pages);
the names of two referees (senior scholars who know your academic work well and are in a position to evaluate it). If you progress in the application process, we may contact these referees and ask them for a detailed reference letter;
if applicable, certification of disability status. Applicants who are registered as having a severe disability or a disability that is classified as being equivalent to a severe disability are under no obligation to disclose this information. However, please note that we can only take disability status into account in the application process if this information is provided here.

The compatibility of career and family is important to us, as is a family-friendly working environment. If you have any particular concerns regarding this, please let us know.
Please apply in English or German on our online application portal by April 30 for the following winter semester (starting October 1) and October 31 for the following summer semester (starting April 1). You will find the job posting including the link to the online application portal under our current job openings as soon as applications are possible.