Germany and France: MPIfG and Sciences Po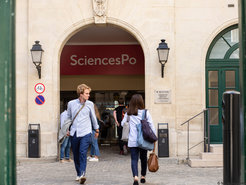 A long-standing and close collaboration exists between the MPIfG and Sciences Po in Paris. Sciences Po is one of the leading universities in France in the social sciences. Its nine interdisciplinary and internationally oriented research centers work in the social and political sciences, economics, history, and law.
Cooperation between Sciences Po and the MPIfG involves
Sciences Po is an international partner institution of the Institute's doctoral program, the International Max Planck Research School on the Social and Political Constitution of the Economy (IMPRS-SPCE).
In the jointly founded Max Planck Sciences Po Center on Coping with Instability in Market Societies (MaxPo), the MPIfG and Sciences Po conducted research between 2012 and 2022 on the impact of increasing liberalization, technological advances, and cultural change on the stability of industrialized Western societies.